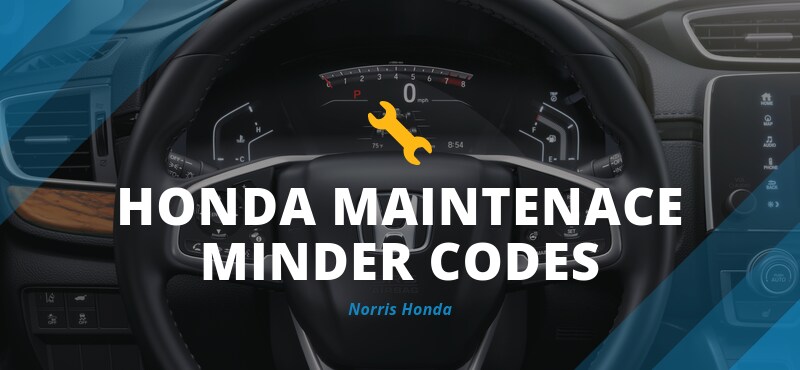 Here at Norris Honda, our Honda-trained technicians understand every aspect your vehicle, but you might have a few questions about Honda maintenance minder codes. The Maintenance Minder information is critical to keeping your Honda running at peak performance, so you can read the information below, check your owner's manual, or speak with a service advisor to get more details. 
What is Maintenance MinderTM?
If the engine oil life is less than 15%, your Honda vehicle will display a Maintenance Minder message on the information display* or the driver information interface* every time you turn the vehicle on. This displays as a small wrench, and the indicator will remain on the instrument panel if the engine oil life become 0% or less. If this happens, stop by our service center immediately. 
What do the different items/sub items mean?
Maintenance Main Items
A - Replace engine oil1
B - Replace engine oil1 and oil filter, inspection of select major components (like brakes, exhaust system2, suspension components etc.)
Maintenance Sub Items
1 - Rotate tires
2 - Replace air cleaner element3, replace dust and pollen filter4, inspect drive belt
3 - Replace transmission fluid5
4 - Replace spark plugs, inspect valve clearance
5 - Replace engine coolant
6 - Replace rear differential fluid (if equipped)
7 - Replace brake fluid6
---
*Not available on all models. 
1) If a Maintenance Minder indicator does not appear more than 12 months after the display is reset, change the engine oil every year. 2) See information on maintenance and emissions warranty. 3) If you drive in dusty conditions, replace the air cleaner element every 15,000 miles. 4) If you drive primarily in urban areas with high levels of soot in the area, replace the dust and pollen filter every 15,000 miles. 5) Driving in mountainous areas at very low vehicle speeds results in higher transmission temperatures. This requires transmission fluid changes more frequently than recommended. In that case, have the transmission fluid changed every 25,000 miles. 6) If a Maintenance Minder indicator does not appear more than 36 months after the display from item 7 is reset change the brake fluid every 3 years