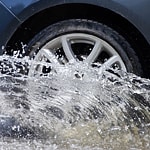 Has your car ever skidded while you were driving on a wet road? If the answer to that question is yes, then your car was likely hydroplaning. This can be a scary experience. However, it is something that can be avoided. It is a good idea to slow down as soon as it starts to rain. You should also try to stay away from puddles and standing water.
You will need to avoid making quick or sharp turns. If you have cruise control on, then you will need to turn it off. Stay out of the outer lanes because they have a tendency to accumulate water quickly. Furthermore, you will need to drive in a lower gear.
Keeping your car in good shape is something else that you can do in order to prevent hydroplaning. If it is time for you to get car maintenance, then you can contact the dealership.