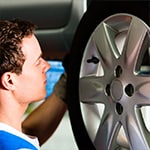 Having a blowout or even just a flat tire while you're on road can be scary and stressful. Our team at Norris Honda want you to be aware of the things you can do to prevent a tire blowout. It's extremely important to know what can cause a blowout and what you should do if you have a blowout. The most important thing to do is to get out of the way of moving traffic. Also,
•Hang onto the steering wheel tightly because the vehicle may be swerving from one side to another.
•Do not hit the brakes hard.
•Pull over to the side of the road.
•Allow the vehicle to slow down gradually rather than all at once.
•Turn on your hazard flashers and call for help.
Reach out to us for any tire-related issues you may have. We can also help with any other automotive service you may require. Call us, contact us online or stop at our shop in Baltimore.